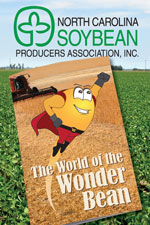 The North Carolina Soybean Producers Association is proud to provide educational programs and materials to support North Carolina teachers in the classroom. The association conducts numerous programs each year in schools and at other events children attend such as local festivals and Ag Days to educate them about soybeans and agriculture, their history in the United States, plant science, the many uses of soybeans in products we use every day and the benefits of soy in a healthy diet. In addition, the association has created a booklet to provide students a resource about these topics they can take home with them, called The Wonder Bean.
The NCSPA also has a program in which it conducts educational programs in school libraries. As part of the presentation the association donates two books on soybeans and agriculture to the libraries.
Request Materials or Speakers
If you are interested in having a representative from the NCSPA come to your school or classroom, or are interested in getting copies of The Wonder Bean, let us know below.