Congratulations to Phillip Gregory of the Strickland Farming Group team for his winning score of 92 at the 2017 NC SoyPAC Sporting Clays Challenge. The annual tournament was held at Drake Landing in Fuquay-Varina on April 7th.  Shooters had to contend with gusting winds but several managed to post excellent individual scores.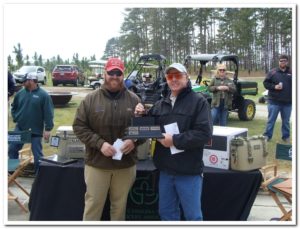 Top team honors went to the Orange County-based Team McPherson.
Sydney Edwards Dunn, tournament director for 2017, said "thanks to all the farmers, supporters and teams for coming out this year.  It means a lot to have fun and compete for a good cause."
Proceeds from the tournament benefit NC SoyPAC, which advocates for federal policies favorable to soybean growers and contributes to federal candidates who support pro-farmer policies.
The tournament format is 100 targets where 50 are shot on Drake Landing course #1 and 50 on course #2.  Shooters must shoot report pairs at each station on the course.  Team competition is open to four shooter teams.  The tournament includes lunch, top individual and top team awards, and a prize drawing for all participants.  A John Deere Gator XUV sponsored by East Coast Equipment is offered annually to any shooter scoring a perfect 100 for the tournament.