Hundreds of farmers congregated at Middle Creek Farms in Engelhard for the annual Black Land Farm Managers Association Tour.  Despite a heavy rainfall the night before, farm owner Dawson Pugh had the vast demonstration plot area in great condition.  Dr. Jim Dunphy has the "Cadillac" max yield trial on this site, and Dr. Dunphy presented the protocols for each of the max yield plots and the Group IVs and Vs selected for the trial.
Black Land Farm Managers and Dawson Pugh did a great job with the thinking behind this field day, with a big tent in a central location in the field and a convenient lunch plan, an ongoing rotation of Extension presentations and plot demos, and plenty of drink stations around the site.
Lots of our friends attended, of course.  Former soybean director Charles Tooley and his son, "original" soybean director Joe Landino, Jeff Harris from Agri Drain, Darren Armstrong, former soybean director Brian Foster, Wesley Foster, Beth Foster, soybean directors Jacob Parker, Ryan Cahoon, Sydney Dunn, Isaac Boerema, David Heath, and many others.
Thanks to all the Extension folks for a great event — Rod Gurganus, Rebecca Liverman, Anna-Beth Williams, Al Wood, Andrea Gibbs, Clayton Butcher and everybody that was working.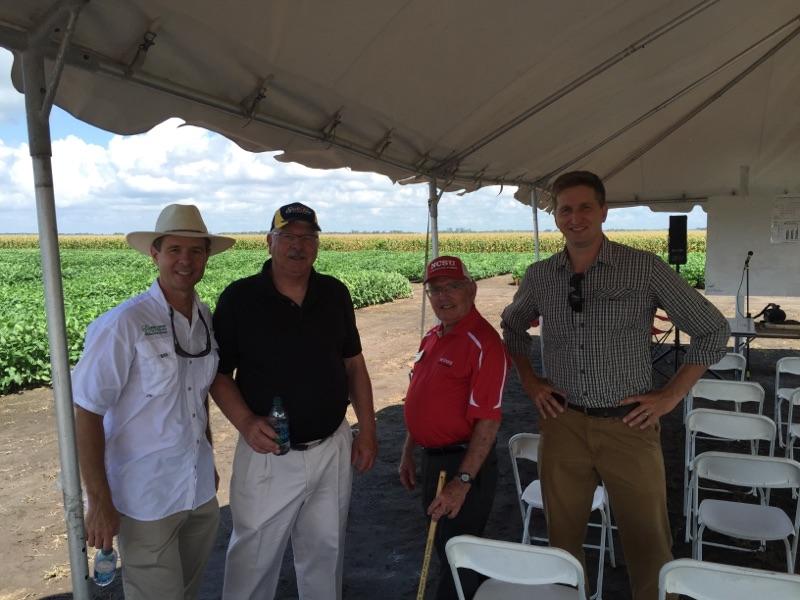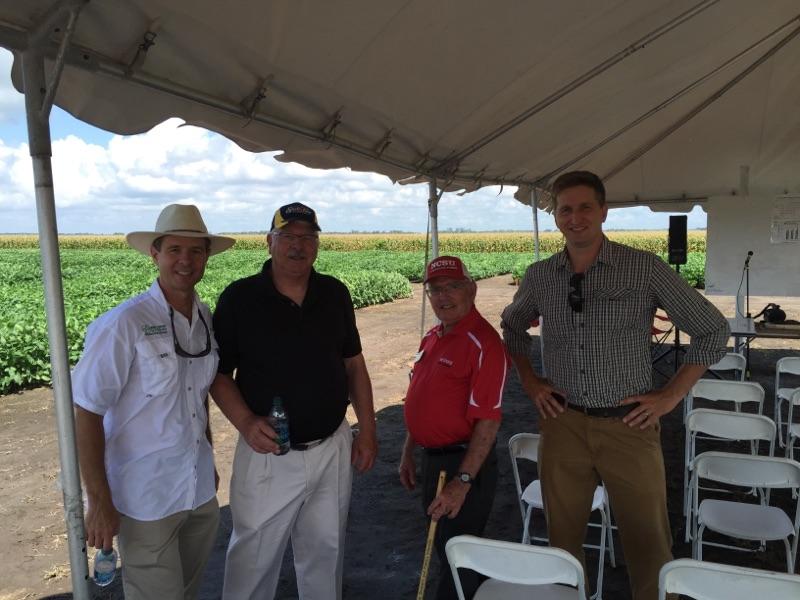 Charles Hall, Ag Commissioner Steve Troxler, Dr. Jim Dunphy, and Dr. Chad Lee from Univ. of Kentucky.