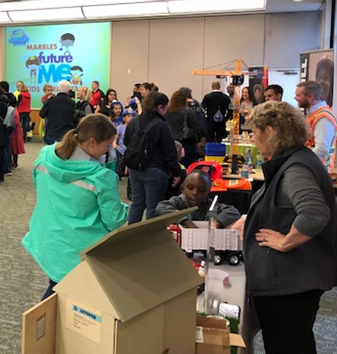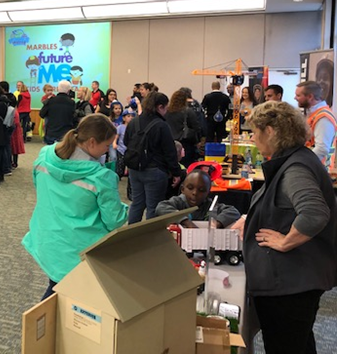 Our partnership with Marbles Kids' Museum began back in 2013, with an interactive play exhibit called "On the Farm." Given the importance of livestock in soymeal demand the exhibit focuses on feeding and caring for farm animals. The "On the Farm" exhibit deepens children's engagement in farming as they feed and care for production animals including pigs, cows and chickens. On February 22nd, NCSPA's Laura Rogers went to "man" the exhibit in person, setting up a soybean booth, and answering questions about agriculture as part of the "Future Me" Career Fair.
Other exhibitors at the career fair included: ABC 11 – WTVD-TV Weather Storm Center, beekeepers, a veterinarian, civil engineers, a local construction company, a FFA group, physicians, a dentist, an ophthalmologist, lawyers and the City of Raleigh Public Safety personnel.
Marbles Kids' Museum serves a multicultural community and questions from the diverse group of visitors run the gamut from "is that what a soybean looks like"? to "what do you with the soybeans once they are harvested"? Questions like "what does it take to be a modern farmer of today"? lead to enthusiastic conversations about agriculture in the state. At the soybean booth, there was a miniature model grain hauler that shows the kids how the beans get to the elevator as well as seeds, soil and pots so the kids can plant their own beans to take home. While there have been major advancements in agriculture since we first started this event, kids' interest in the subject has not changed. To cap off the exhibit, there is a soybean factory "playhouse", where we demonstrate the industrial uses of the soybean. Children are delighted to learn how the oil in soybeans is extracted and ultimately used in many of the foods found in their very own homes!
The Fair directs the way to future careers and builds skills like collaboration, communication, leadership and the desire to make a difference in the world. As North Carolina becomes more urbanized it is important to get children outside of rural communities interested in agriculture. The "On the Farm" exhibit does exactly that and with any luck we'll see some of these kids entering the ag workforce in 20 years.
The "Future Me Fair" provided a high-impact touch-point with the community just in time before in-person outreach events were suspended due to the coronavirus. In the coming weeks and months, the NCSPA will be exploring how to best use digital platforms to deliver our messaging in a (hopefully short-lived) time of social-distancing.