U.S. Secretary of Agriculture Sonny Perdue was in North Carolina last week and representatives from the North Carolina Soybean Producers Association had the opportunity to attend two listening sessions with him. The visit was part of a multi-state listening tour focused on important agriculture and rural improvement issues.
The first session was a panel at NC State that focused on biotechnology. North Carolina was chosen as a stop on the tour because of its rich presence in both the agriculture and biotechnology arenas. Perdue hosted a panel that included two university leaders, CALS Dean Richard Linton and Rodolphe Barrangou, Associate Professor in the Department of Food, Bioprocessing and Nutrition Sciences; and two ag biotech entrepreneurs, Joy Parr Drach, CEO of Advanced Animal Diagnostics and Eric Ward, CEO of AgBiome.
The recurring theme echoed by all panelists was the importance of communicating with and educating the public about agricultural innovation. While agricultural science and technology is a route to future rural prosperity, communicating the safety of our food to a "skeptical" public is the challenge.
"Truly, in the next few years, we are going to revolutionize the whole idea of what we think about agriculture. It's not just sweet potatoes. It's pharmaceuticalsit's life-changing health for America: human health, plant health, animal health and general health overall."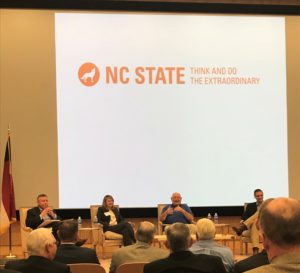 While Perdue is excited about the pace of problem-solving agricultural innovation, he also stressed the need for "integrated communication" from agriculture's many stakeholders. This includes farmers, companies, universities, commodity groups, and government agencies.
"We need to get farmers communicating with the public.  Historically, farmers just want do what they do best, and that's produce safe, nutritious food for America.  But, we've got to be able to communicate that, we're no longer assumed to be the trusted industry that we once were, and people don't take that for granted.  There are many people out there in the internet environment that want to disparage what's happening on American farms. People want to know where their food came from, and we need to communicate the methods we use to produce that food.  We wouldn't produce food that's unsafe for our families, we're eating that same food.  USDA wants to work with our producers across the country and with universities like NC State to communicate the message of a safe, healthy food supply."
The second session included a Q&A session with commodity leaders from some of NC's 90 commodity groups at Farm Bureau. Topics that came up were the farm bill, trade, rural infrastructure – including broadband access, immigration, and freedom to operate. The session was a great opportunity for NC growers to express their concerns to Secretary Perdue and he was very open to trying to find solutions that will work.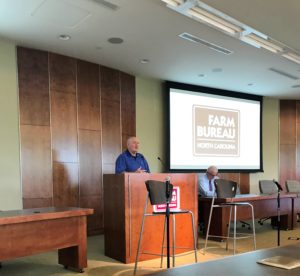 Also in attendance at the two sessions were several members of the North Carolina General Assembly, Commissioner Troxler, and CALS alumnus Ray Starling, special assistant to the U.S. president for agriculture and agricultural trade.