Now that we have escaped the wrath of Irma and Jose it's finally time to start thinking about soybean harvest. Overall, the NC soybean crop looks to be in decent shape thus far. If we can get through the season with a few more timely rains and avoid any more hurricanes, yields in the state will probably be a little higher than average.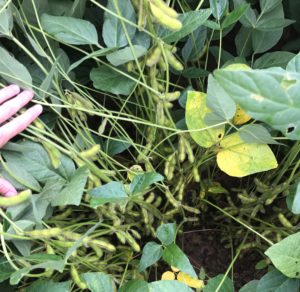 Do you have fields that could potentially win our state yield contest? If so, it's time to start reviewing the rules now so you're prepared when you do put your combine in the field.
A few important things to remember are:
Any grower who produces three of more acres in NC is eligible to enter the contest.
A minimum of three acres must be evaluated in one contiguous area and composed of one or more three- or four-sided figures, with all sides being straight lines.
All sides must be measured to the nearest inch, tenth of a foot, or link
At least one representative of the County Soybean Contest Committee must be present at harvest and weighing.
Entries must be submitted by December 25, 2017.
The complete set of rules and entry form can be found here.
The winners of both divisions will win a trip to the 2018 Commodities Conference in Anaheim, CA. A list of other rewards is below. All awards are sponsored by the North Carolina Soybean Producers Association.
Highest Yield
State Awards
Highest Yield Per Acre – A trip to the 2018 Commodity Classic annual meeting in Anaheim, CA (accompanied by his County Extension Agent) and a plaque.
Second Highest Yield Per Acre – Plaque (also $50 cash if in the same area as yield winner).
Third Highest Yield Per Acre – Plaque (also $50 cash if in the same area as yield winner or runner-up).
Area Awards
The highest yield per acre in each of the five areas listed below will receive a plaque and a $50 cash award if not also recognized as one of the 3 highest yields in the state.
Tidewater: Currituck, Camden, Pasquotank, Perquimans, Gates, Chowan, Washington, Tyrrell, Dare, Hyde, Beaufort, Pamlico and Carteret counties.
Coastal Plain: Halifax, Northampton, Hertford, Bertie, Martin, Edgecombe, Nash, Wilson, Johnston, Wayne, Greene, Pitt, Lenoir, Jones and Craven counties.
Coastal Plain: Onslow, Duplin, Pender, New Hanover, Brunswick, Columbus, Bladen, Sampson, Harnett, Cumberland, Robeson, Scotland, Hoke, Lee, Moore and Richmond counties.
Piedmont: Warren, Franklin, Wake, Chatham, Randolph, Davie, Davidson, Yadkin, Wilkes, Watauga and all counties north of these.
Piedmont: Anson, Montgomery, Stanley, Rowan, Iredell, Alexander, Caldwell, Avery and all counties south or west of these.
Most Efficient Yield
State Award
Lowest Total Production Cost per Bushel – A trip to the 2018 Commodity Classic annual meeting in Anaheim, CA, and a plaque.
Area Award
The lowest total production cost per bushel in each of the five (5) areas listed above will receive a plaque if not also recognized as the lowest production cost in the state.
We are still waiting for a NC grower to break the 100-bushel mark. There is a one-time only $2500 prize for the first grower to do this (and if you're a NC Soy Alliance member we'll double it to $5000). If we happen to have multiple growers do this in 2017, the prize would go to the grower with the highest yield over 100 bu. To be eligible for this bonus prize, a few special rules apply. See the rules for the 100 bushel prize here.
Currently, NC's record soybean yield is 93.3 bushels/ac. Last year the high yield was from Union County at 87.8 bu/ac and the most efficient cost was $3.39/bu also from Union County. A map below shows the highest contest yields for each county through the 2016 season.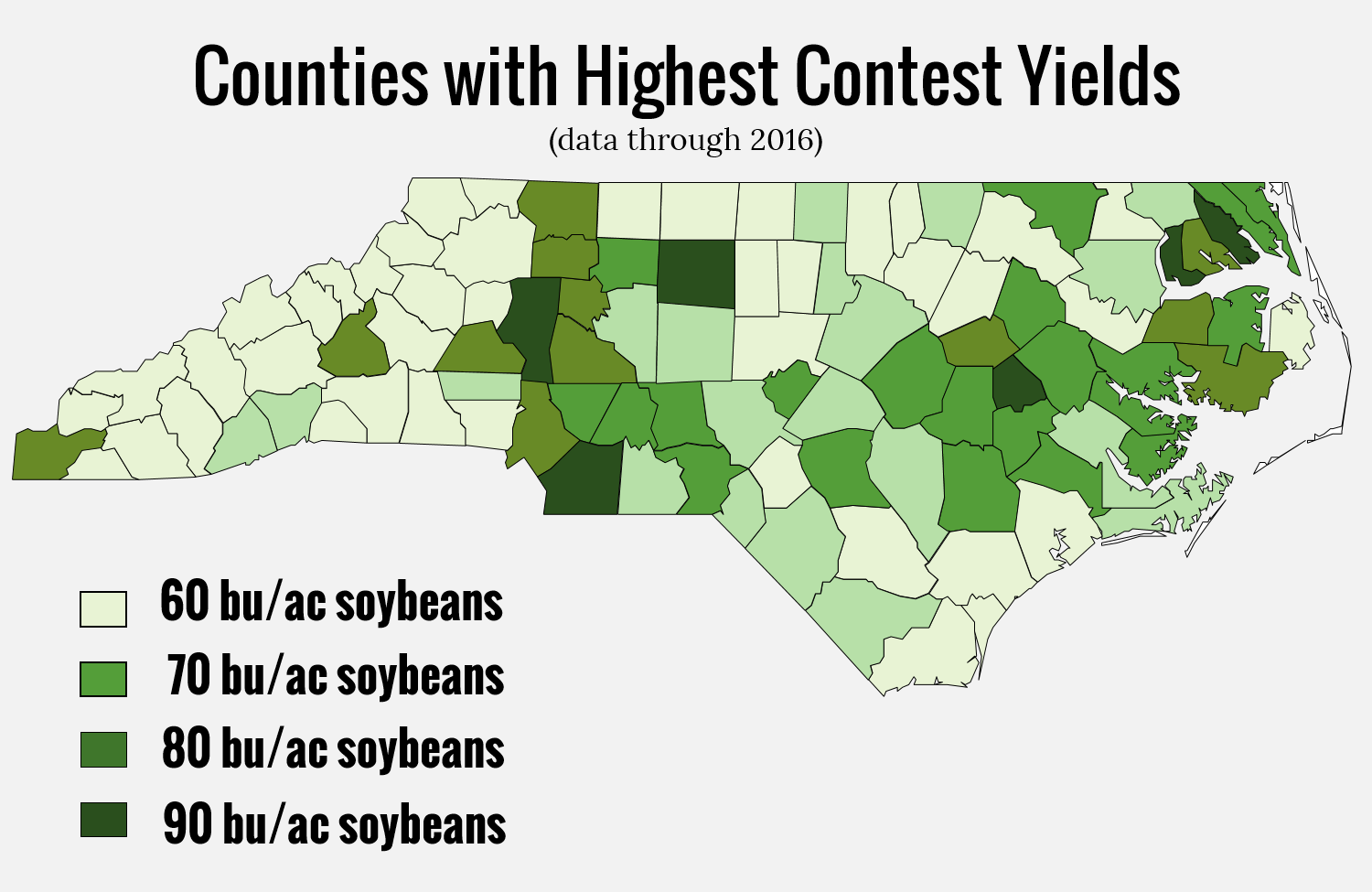 If you think your soybean yields are contest worthy, I encourage you to submit an entry, we're hoping to see some high 90's or even triple digits on the screen in January!