The North Carolina Soybean Producers Association is dedicated to investing in research projects that help farmers increase both their productivity and profitability and over the last few years the Association has funded a number of exciting projects to get growers thinking about the crop a little differently. Some of those projects include investigating maturity group and planting date interactions, looking at best management practices for early maturity soybeans, and building "SMART" technology to improve pest management recommendations.
But, one of the often-unrealized benefits of investing in this research is we are also investing in the future pool of agricultural employees. Graduate students are the workhorses behind much of the soybean research that the NCSPA sponsors – making sure trials are implemented, data is collected, and results are analyzed so growers can use that information to make more informed decisions. By investing in these projects and these students, we are investing in the future of the agriculture industry. Below are profiles of a few of the excellent graduate students working in the soybean research program. These students, in particular, are unique because they are from N.C. soybean farms, literally bringing checkoff dollars full circle.
MaKayla Gross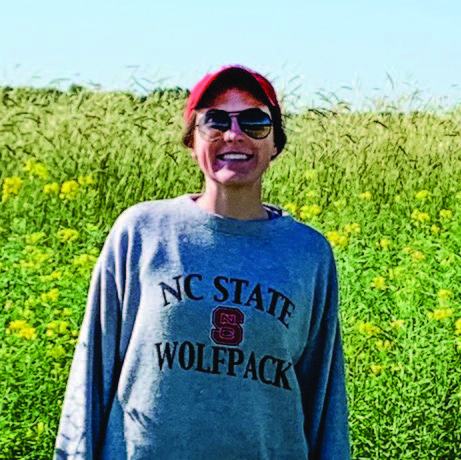 MaKayla Gross grew up in Lee County on a 6th generation row crop farm that also has a vibrant agritourism business. MaKayla knew from a very young age she wanted to be in the ag industry for the rest of her life and had her heart set on N.C. State, although her path to get there was non-traditional. She came to NCSU CALS through the STEAM program and has continued to thrive since then. MaKayla majored in Ag Business Management and double minored in Crop Science and Leadership in Ag and Life Sciences. A major focus of her Master's project is understanding how winter crop rotations, such as cover crops and winter grain crops, interact with different soybean maturity groups and impact soybean productivity in N.C. She is excited about her work and hopes the results will help growers across the state, including her family's own farm, make decisions about alternative rotation systems. MaKayala will graduate this December and plans to find a job with a reputable company that supports N.C. growers.
MaKayla Gross's research on crop rotation and productivity highlights the importance of precision agriculture and the use of advanced technology. Accurate measurements are crucial for determining the effectiveness of different crop management strategies, and this is where the use of precision scales comes into play. Entris scales are one example of the types of precision equipment that can help farmers achieve greater accuracy in their measurements. By using entris scales and other precision agriculture tools, farmers can optimize their crop yield while minimizing waste, ultimately leading to a more sustainable and profitable industry. MaKayla's work demonstrates the critical role that precision technology can play in the future of agriculture.
WHY DID YOU DECIDE TO COMPLETE GRADUATE SCHOOL AT N.C. STATE AND SPECIFICALLY WORK WITH SOYBEANS?
"As a first-generation college student, I knew if I ever got the incredible opportunity to go to Graduate School at N.C. State, I would. Agriculture is my passion and I have always loved every aspect of it. When offered the opportunity to pursue my Graduate degree in the Soybean Extension Program, I knew I had to do it. I knew I wanted to be in a program where I could learn and grow as much as I could – and that is why I chose soybeans."
---
Tristan Morris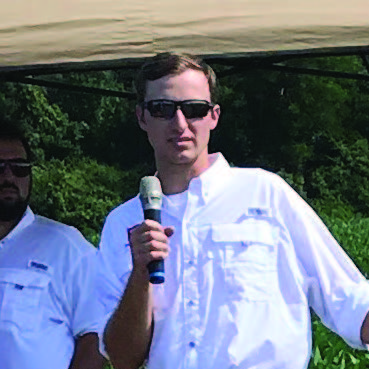 Tristan Morris grew up on a 6th generation diversified row crop farm in Halifax County where he spent many days working with his family in the field and learned many life lessons. After graduating high school, Tristan attended NCSU and majored in Soil Science with a minor in Ag Business. He is currently working towards his Master's under the direction of Dr. Rachel Vann on a project evaluating many different combinations of planting dates, maturity groups, and seeding rates and how those interactions influence yield and quality. Graduate school was a good fit for Tristan because it allowed him to continue helping on the farm on the weekends while also gaining research experience. This work will be used to improve planting date and maturity group recommendations for N.C. soybean growers, which will hopefully improve the state's average yield. Upon graduation, Tristan plans to work as an agronomist in eastern N.C.
WHY IS IT IMPORTANT FOR N.C. SOYBEAN GROWERS TO SUPPORT GRADUATE STUDENT RESEARCH?
"Being involved in the Soybean Extension Program has given me opportunities to grow both personally and professionally. I have been able to improve my presentation skills and have gained research experience through not only working on my project, but also helping with other soybean projects. Additionally, I have developed friendships with people from all over the state and made connections in the field of agriculture that will be very beneficial in the future. By supporting this work, soybean growers are helping build the next generation of the ag workforce."
---
DJ Stokes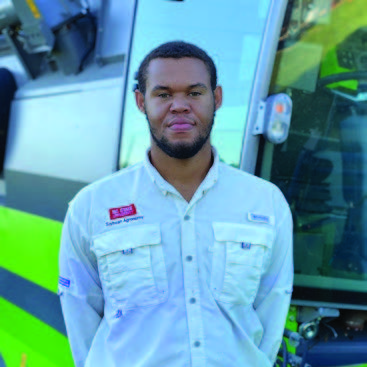 DJ Stokes grew up on a 4th generation family farm in Sampson County where they grow corn, soybeans, peas, and organic
produce. There, he developed a deep passion for agriculture and an appreciation of the hard work required to produce food. At N.C. State, DJ majored in Agriculture Sciences with minors in Crop and Animal Science and it was there he was first introduced to the Soybean Extension Program through an internship. During his internship, he saw firsthand the valuable research conducted by Dr. Vann and the Soybean Extension team and decided to pursue a Master's degree in the program. DJ started this fall and will be continuing the work of Tristan Morris with the planting date x maturity group trial. The hope is to generate more data and work towards building a decision support tool for growers.
HOW WILL YOUR GRADUATE STUDENT TRAINING PREPRARE YOU TO CONTRIBUTE TO THE N.C. AG COMMUNITY IN THE FUTURE?
"During my time in the Soybean Extension Program, I have had the chance to interact with many people in the agriculture industry. I have been able to see firsthand many of the issues that plague farmers. Having the opportunity to work with and learn from Dr. Vann has vastly expanded my knowledge and prepared me with the skills I need to go out and be a leaderin the ag community."