Starting this week we will be discussing some important management decisions for 2018. Over the next few weeks well tackle a variety of topics including planting dates, seeding rates, row spacing, and more. But I've decided to start with weeds because proper weed control is one of the most important components of a soybean production program. Without weed control, variety selection, fertility, planting density, and other management decisions don't matter much.
Weed management is a long-term investment that ultimately results in better weed control, higher yields, and increased revenues. A recent economic modeling study supported by the Weed Science Society of America found that managing herbicide-resistant weeds resulted in long-term profit increases of 14 – 17% over a 20-year period (Livingston et al., 2016). Weed management is one area where we can't afford to cut costs because it greatly influences the cost of production in future years.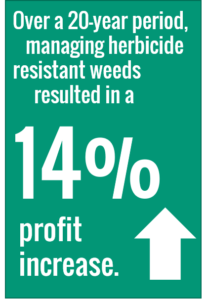 Affordable weed control is one of their biggest challenges in soybean production and weeds are one of the most significant threats to crop production across North Carolina. A recent study conducted by NCSU's Dr. Wes Everman (2016) estimates a 47% loss in soybean yields if weeds aren't controlled. That results in over $240 million in losses to NC growers.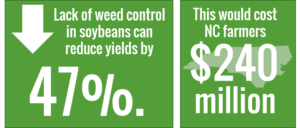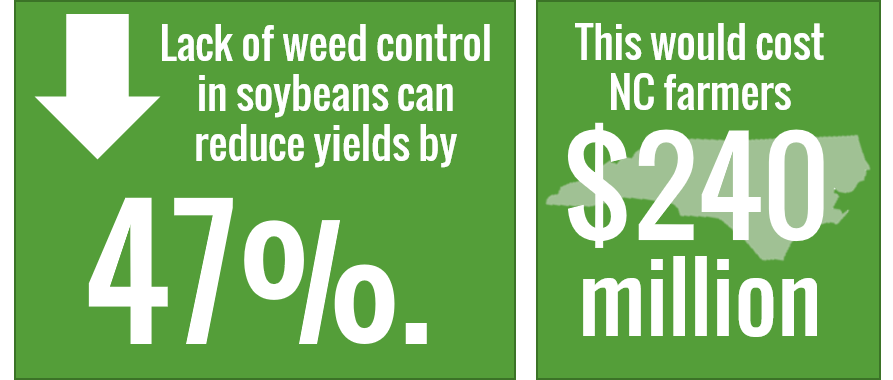 In tough financial times, it is easy to skimp on weed control but don't be tempted to let weeds slide this year. In order to have a successful 2018 (and 19, 20, etc.) we must all commit to spending time and money to fight weeds.
Early season weed management is imperative to maximize soybean yield. And since there is finally a break in the wet weather, now is the time to start thinking about burndown and PRE options.
One of the weeds that's becoming tougher to control is horseweed. The best way to combat horseweed to is hit it when it's small. The larger the plants get, the tougher they are to kill and the longer the plant back interval will probably be. Horseweed should be controlled before it is eight inches tall (but the plant must be actively growing for herbicides to be effective). The time to control horseweed is now. If you wait until late May, the plants will be too big to control.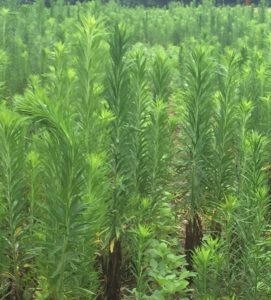 After a successful burndown program is applied, the next step is to select the right PRE program. PRE's with two modes of action and residual activity are critical to controlling weeds in soybeans. If you can overlap your residuals effectively, we can prevent a lot of Palmer from ever emerging. Just because we have the new auxin tools in our POST toolbox does not mean you can skip the PRE. A proper PRE program sets the stage for weed control for the rest of the season.
Weed control is critical to help prevent the spread of new resistance and to continue to fight glyphosate-resistant weeds. With no new modes of action on the horizon for at least 10 years, if we don't protect the herbicides we do have, our POST options for weed management will become non-existent (see this blog post from last spring). In order for us to continue to successfully grow soybeans in North Carolina for years to come, we must commit to proper weed management practices now. As you make decisions for 2018, remember weed management is one of the most important decisions you can make.