Soybean growers in Pitt, Green, Lenoir, Wayne, Duplin, Sampson, and Robeson counties are eligible to apply for a Regional Conservation Partnership Program (RCPP) grant program through your NRCS office.

This special program, called SmithfieldGro was begun by Smithfield Foods and the Environmental defense fund to help grain farmers improve their productivity, profitability, and sustainability. The program provides free agronomic advice and other services to interested grain growers who are using commercial fertilizer as their primary source of nitrogen. EQIP practices eligible for funding are:
Nutrient Management Conservation Activity Plan (104)
Conservation Cover (327)
Conservation Crop Rotation (328)
Residue & Tillage Management – No Till (329)
Cover Crop (340)
Nutrient Management (590)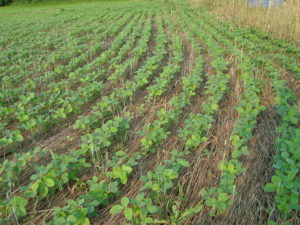 The RCCP program is unique because it allows growers to apply for a dedicated of conservation of program funding. Money award through RCPP goes directly to farmers through the traditional NRCS enrollment process, but farmers who apply to the RCPP may be more likely to receive funding because they are competing in a smaller pool of applicants.
To apply, go to your local NRCS office and submit an EQIP application, but specify you want to be screened and ranked for the SmithfieldGro RCPP Fund. The application deadline to apply for funding is November 17, 2017. If you have questions contact our office for more information.