Walking and scouting fields is important for a number of reasons but as we move into July, identification of insect pests is key to maintaining maximum yields. Understanding the insect population in your field, allows you to formulate the most effective and profitable insect management program.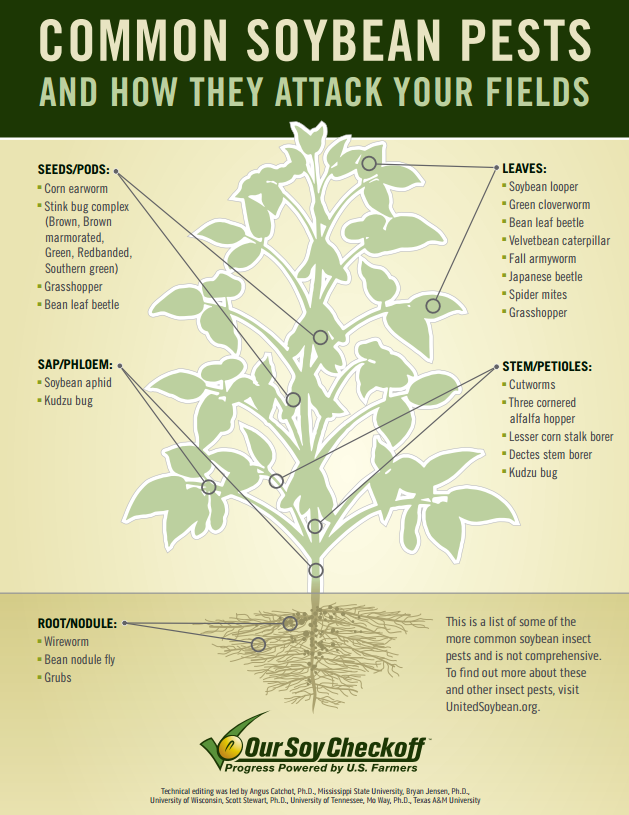 While there are a number of insects found in our soybean fields, relatively few pose an actual threat to yield, but knowing which ones do is essential. When scouting for insects, there are a couple different categories of insects to consider.
Foliage Feeders
The first is the foliage-feeding insects. Foliage defoliators are present throughout the growing season, and the damage they cause is the most noticeable, but the least damaging. Soybeans have the unique ability to compensate for lost leaves during periods of rapid vegetative growth, therefore plants are most vulnerable during the beginning of reproductive growth, when vegetative growth slows. Economic thresholds for foliage feeders are 30% defoliation during early vegetative growth and 15% defoliation from just before reproductive growth begins through pod fill. The chart below can be used to estimate percent defoliation of leaves.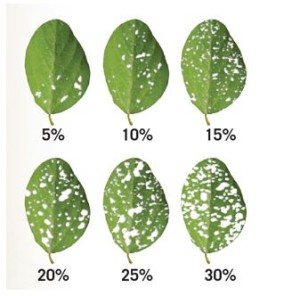 Important defoliators in NC soybeans include armyworm, green cloverworm, soybean looper, and the bean leaf beetle. Pictures of each are below.
Pod Feeders
The second category is pod feeding insects. Pod feeders are the most dangerous insect pest as they directly attack soybean yield. Insecticide treatments should primarily target theses insects. Pod feeders feed on immature soybean seeds which results in pod damage or pod drop. The pod feeders which are the most serious threats to NC growers are corn earworm and stinkbugs. Treatment decisions should be made based on population levels and threshold calculators are available here for both stink bugs and corn earworm. Pictures of these are below.
Stem Feeders
The third category is stem-feeding insects. Stem feeders rarely cause economic damage, with the exception of the lesser cornstalk borer which can be a serious pest following wheat and/or in sandy soil. Other common stem feeders include kudzu bug, and the three-cornered alfalfa hopper. Damage from stem feeders includes weakened stems that may result in lodging or damaged stem tissues which result in loss of nutrient uptake.
Scouting is the only way to determine which of these insects are present at a given time and if populations are high enough to lower profits. Soybeans should be scouted for different insects at different points in the growing season, depending on when those insects are most likely to cause economic losses. The calendar below can help determine when to scout for which insect.
References:
Reisig, D. and D.A. Herbert, Jr. 2014. Soybean Insect Guide. United Soybean Board. https://ncsoy.org//resources/insects/.
Linker, H.M., J.S. Bacheler, H.D. Coble, E.J. Dunphy, S.R. Koenning, and J.W. Van Duyn. 1999. Integrated Pest Management Soybean Scouting Manual. North Carolina Cooperative Extension Service, Raleigh, NC.