In July, NCSU announced the release of three new conventional group VI and VII soybean varieties. The development and release of these three high yielding varieties are the culmination of many years of joint research projects and collaboration between the USDA and NCSU, much of which was funded by either the North Carolina Soybean Producers Association or the United Soybean Board.
In the early 1980's UDSA researcher Tommy Carter and colleagues began a project to investigate drought tolerance in soybean germplasm from Asia. One exotic type from Japan, PI 416937, was identified as slow wilting. Years of work by both NCSU and USDA researchers investigating this exotic, slow wilting line revealed it also contained rare yield enhancing genes not associated with the drought tolerance. Because of the unique combination of drought tolerance and high yield in this line, it was used in the development of new breeding lines, germplasm releases, and varieties in maturity groups VII and VIII by the USDA.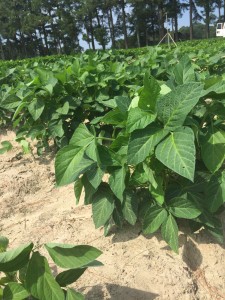 The NCSU soybean plant breeding group led by Dr. Andrea Cardinal then used some of these USDA materials (with PI 416937 in the pedigree) and crossed them to three 'normal' elite breeding lines from across the Southeast. These crosses lead to the development of three new high yielding conventional varieties which top the non-GMO yield trials in maturity groups VI and VII and beat many of the GMO lines as well. These lines are unique in that 12.5% of their pedigree traces back to the exotic line PI 416987.
These new varieties will be named in honor of soy industry leaders for a lifetime of service to the soybean industry. The early group VI breeding line NCC07-8138 will be released as NC-Dunphy in honor of NCSU Extension Specialist Dr. Jim Dunphy. When evaluated over 27 environments across the Southeast US, it averaged 4.5 bu/A better than the check NC-Roy. The late group VI breeding line NCC06-1090 will be released as NC-Dilday in honor of Beaufort County seedsman Marion Dilday. When evaluated over 42 environments across the Southeast US it averaged 2.6 bu/A better than the check NC-Roy. And the mid group VII variety NCC06-899 will be released as NC-Wilder in honor of longtime CEO of the NCSPA Jim Wilder. When evaluated over 32 environments across the Southeast US, it was the highest yielding variety of any released check cultivar evaluated in that maturity group.
The release of these three varieties will provide North Carolina growers with high yielding, non-GMO options in the late maturity groups. In addition, these lines will also be important parental stocks in the breeding programs of many commercial breeders across the Southeast. These new lines have the potential to increase yield on millions of acres of soybean and are a shining example how farmer investment from the NCSPA and the USB has turned into real dollar advantages for soybean production.